easily CREATE EXERCISE
PROGRAMS
Create exercise programs quickly using the intuitive 'Quick Add' and 'Search' functionality

Search the exercise collection by name, body part, muscle group or equipment

Utilise exercise program templates for fast and consistent programming

'Drag and Drop' functions to make creating and organising programs quick and easy

Catalogue exercises programs by client to make managing, tracking and updating programs fast and efficient
FLEXIBLE OPTIONS FOR PROGRAM DELIVERY
Exercise programs can be delivered as PDF, or online through the Client App or Portal

15 Different PDF exercise program layouts to meet diverse needs.  Includes combinations of pictures, descriptors, grids and lists. 

PDF Exercise programs can be printed, emailed and posted on your website

All formats can be branded with your company details and logo
Mobile app for your clients
Empower and engage your clients with an exercise program experience on their smartphone
Intuitive, user friendly app experience, offered as an alternative to PDF & printed exercise programs 
Clients can view their exercise program, record sets, reps & loads, and then track compliance & progress 
Exercise programs are easily shared by the practitioner and available instantly in the app for the client
Information recorded by the client is immediately available to the practitioner to track compliance and progress
The app carries your company branding & contact details
The app supports two way sharing of videos, for a personalised experience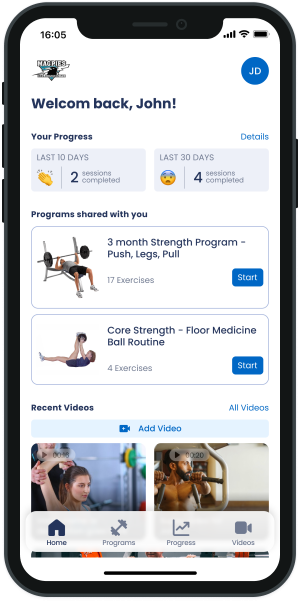 EXERCISE COLLECTION FOR PROFESSIONALS
A collaboration from  leaders in the fields of Strength & Conditioning, Sports Physiotherapy, Exercise Physiology and Health & Fitness

The exercise collection is continually evolving with 1200 exercises, 2000 images and video files.

Easily create new exercises and customise the existing collection to ensure it meets you needs and reflects your style

The collection is diverse and includes strength, power, remedial, stability, proprioception, Pilates, yoga, hydrotherapy, rehab running, conditioning, speed and agility exercises. 

Each exercise is classified by Training Category, Body Part, Muscle Group, Equipment and keywords to expedite the search process
additional capabilities to make life easier
Branding
Design your own page header, then apply it to all your exercise programs
Templates
Build your own library of exercise program templates to systemise your programming and improve efficiency
Customisation
Create new exercises and modify the original collection to ensure the exercises reflect your style. 
Planner
The Program Planner provides a gantt chart like view of your clients and their programs to easily manage your programming 
Forms
Share Forms with your clients in the mobile app and client portal. Automatically catalogue their responses with their client profile. 
Cover Pages
Build out our own content as Cover Pages, then associate these cover pages with any exercise program you create. 
No credit card required
Try it now - 14 day free trial