MANAGE PROGRAMS SECTION
TROUBLESHOOTING – Most common issue on this page Exercise Programs will not generate when I click the "Generate Program button"
Follow the Process outlined in help section on the Create Program page
Check to ensure you have Adobe Reader installed. Get it here
Check your web browser settings and ensure "Pop Ups" are enabled (Not Blocked)
Try a different web browser. Internet Explorer, Firefox and Safari are the most popular
Contact us
Page Operation
Create a New Program
Click the Create Programs link to enter the create programs screenFind an Existing Program
Search for exercise programs by exercise program name or client name
Page Icons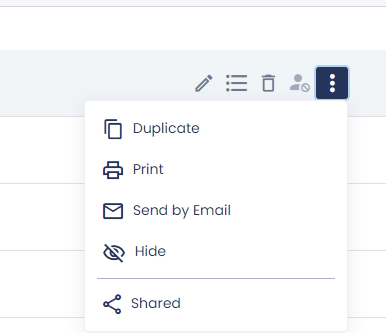 Use the icons on the right side of the exercise program list to
Edit Only programs that are not shared can be edited. If you wish to edit a program – first, duplicate the program, then edit the duplicate. Hide the original program if desired
Duplicate Any exercise program can be duplicated and then edited
View Any program can be viewed by clicking the View icon
Delete Only exercise programs that are not shared can be deleted. Simply click the delete icon. To remove a shared program from search results, opt to Hide these programs.
Share Function (on hold) – Any exercise program you create can be submitted for sharing by clicking the green
icon. All programs submitted for sharing need to be approved by the administrator. Once approved the exercise will be available to other users. At this point you are no longer able to edit or delete this program. You will need to duplicate it, before editing.
Favorites – Click the star icon to add a program to your favorites list. Favorite programs present at the top of the program search list and are generally faster to find.