The exercise collection has been compiled by professionals working in the fields of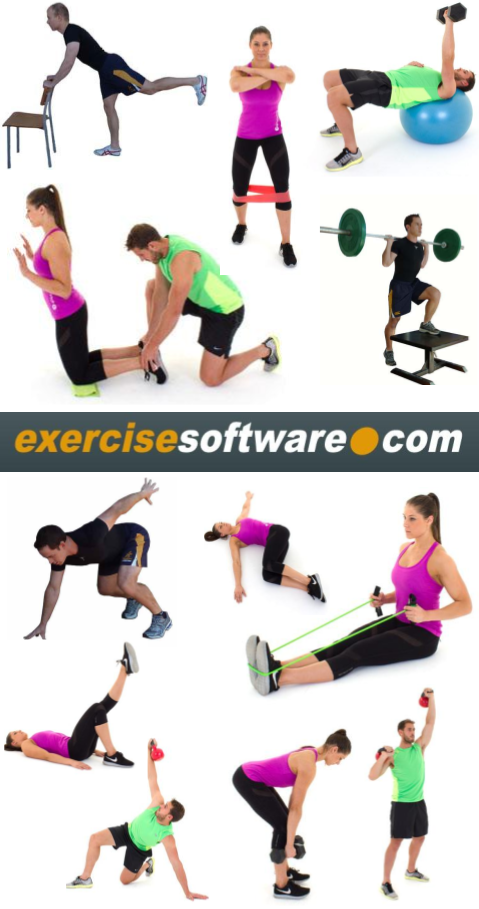 Strength & Conditioning - Elite sport institutes and professional teams
Physiotherapy - Sports physiotherapists and clinical Pilates instructors
Exercise Rehabilitation - Clinic and hospital based rehabilitation and professional sports teams
Health & Fitness - Group fitness instructors and yoga specialist

The complete exercise collection is continually updated. It currently contains 1040 exercises and more than 1800 photo and picture files. All exercises are classified by Training Category, Body Part, Muscle Group, Equipment and keywords to ensure they can be found quickly. Each Training Category contains a range of exercises across the spectrum of simple to complex.


Complete Customisation - ExerciseSoftware.com allows the user to Add and Edit all the exercises in the exercise collection. This ensures the exercise collection can develop specifically to the needs of the user.


To view the complete exercise collection Register for a Free Trial and see it for yourself, it includes...

Strength Training - barbell, dumbbell, body weight, machine, kettlebell, suspension trainer
Exercise Rehabilitation - muscle activation, proprioception, remedial strength, elastic cords and bands
Core - Floor based Pilates, yoga poses, exercise ball, body weight, floor based strength and stability exercises

Flexibility - static, dynamic, mobilisations, neural

Conditioning - aerobic, anaerobic, interval training, gym based cross training, field based conditioning

Rehabilitation Running - Graded running, drills, linear and non linear
Power & Max Strength Training - Olympic lifts, traditional strength and power exercises
Field Based Speed and Power - speed drills, agility, footwork, plyometics, medicine balls